Media Servers Re-Imagined
JBM Automation is pleased to announce our partnership with Kaleidesape, the undisputed leader in 4K UHD movie streaming. Designed for the discriminating home theater owner Kaliedescape products are built to create an immersive cinema experience that rivals the best commercial theaters. Unlike streaming services, each movie is downloaded and stored on a hard drive on either a Kaleidescape Terra movie server or a Kaleidescape Alto or Strato Movie Player. Strato S plays downloaded Blu-ray and DVD quality movies in 4K using advanced upscaling algorithms.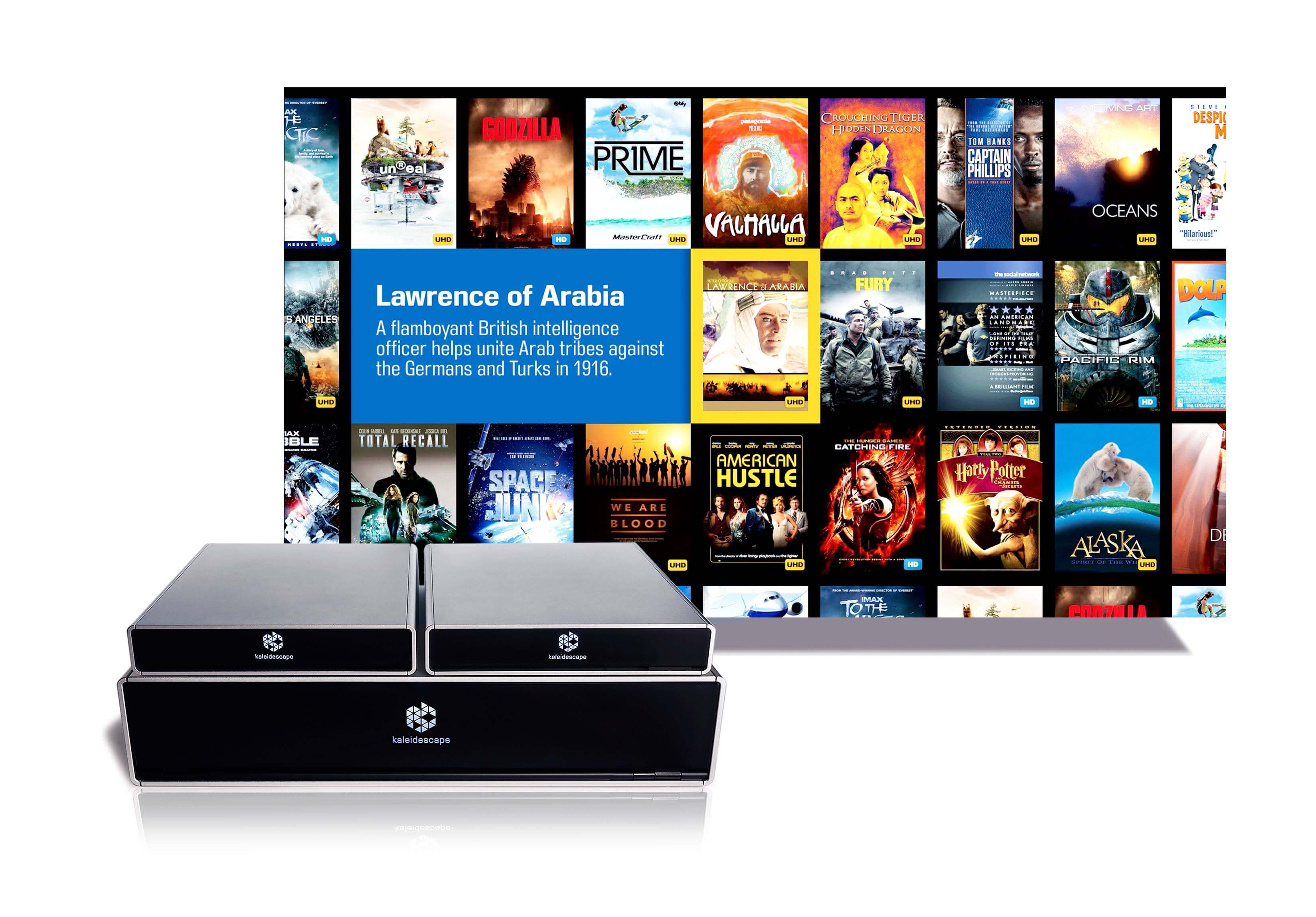 The Kaleidescape Movie Store is the world's only source for movies with full-fidelity audio and video to match the capabilities of luxury home cinema equipment. The movie store offers a library of the most beautiful content from Hollywood's major movie studios, ranging from new releases to the gems from the past 100 years. The Kaleidescape Movie Store offers the best selection of 4K Ultra HD titles with high dynamic range support, and thousands of movies in full Blu-ray HD quality. These Blu-ray quality movies provide superb results when upscaled to 4K by the Strato. Both Blu-ray quality and 4K Ultra HD movies are available with lossless multichannel and object-based audio, including Dolby Atmos.
Unlike the competition, the movies play at 60 frames a second in gorgeous lossless 4K Ultra HD, also with lossless audio and Dolby Atmos. And the fact that it's a disc-free device means you don't have to worry about keeping up with a stack of Blu-Rays — the only thing you need to do to watch a title is download it from the Kaleidescape online store. Besides the benefit of stunning, crisp high fidelity, Kaliedescape users are also able to dive straight into a movie without getting stuck watching trailers and warning screens. For home theater owners who are in search of the highest quality media server to complement their movie night, look no further than Kaleidescape and JBM Automation.
Schedule Your Kaleidescape Demo Today.